Posted by Rachel on 8th Jun 2020
We have lots of fabulous new jersey fabrics in stock so have asked Rachel, our resident dressmaking expert for some hints and tips on sewing with jersey fabrics....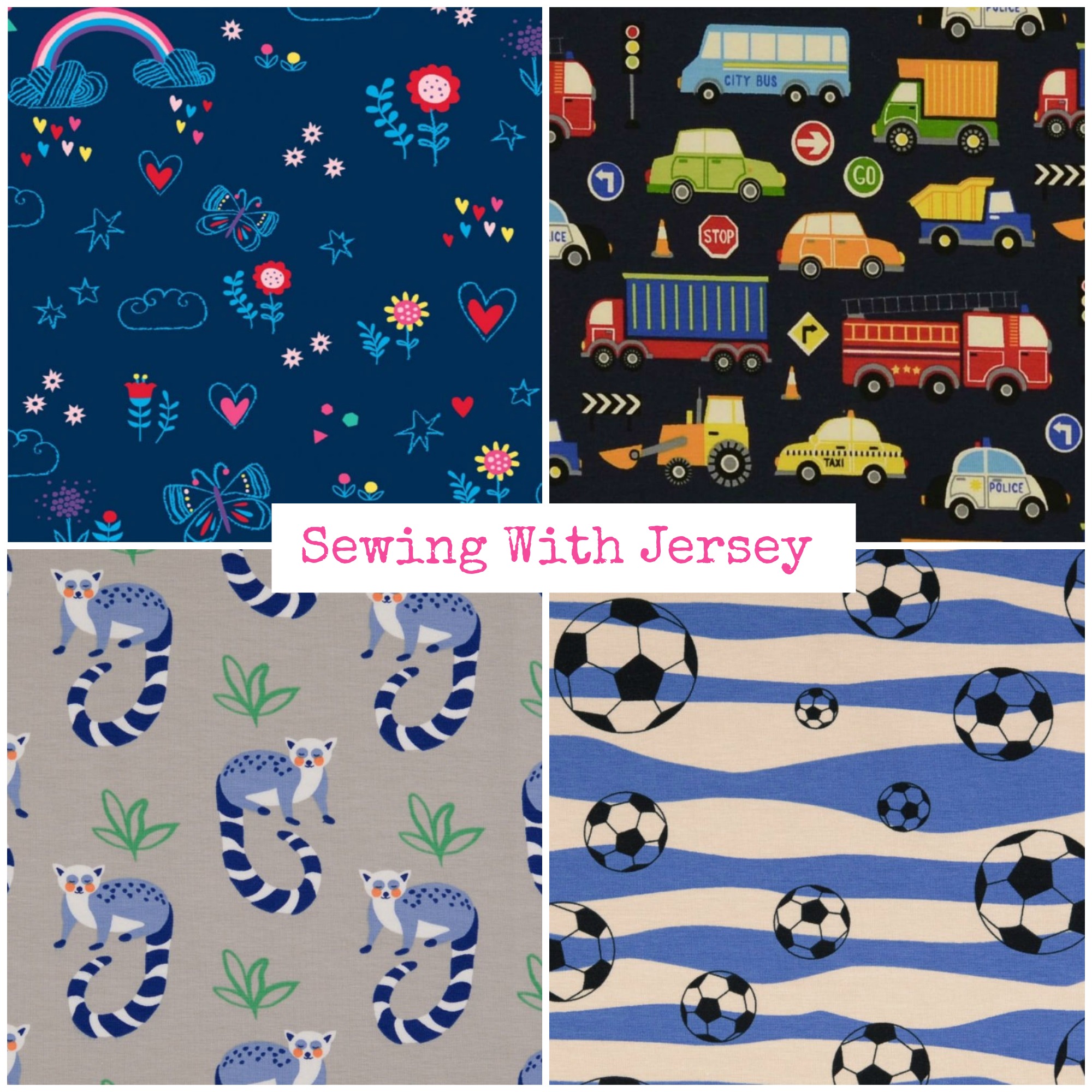 Sewing with Jersey
Mention sewing with jersey and people often look terrified and say isn't that really difficult and don't you need a special sewing machine?

My response is don't be scared of it, as long as your sewing machine has a zig zag setting and you follow a few basic tips it's not as hard as you think. The stretchy nature of jersey means its comfortable to wear and easy to care for. Its especially great for kids and there are so many great patterns and fabrics out there to choose from a whole new set of clothes is suddenly added to your hand made wardrobe.
Sew Scrumptious have a few easy jersey patterns for children such as the Molly Dress or the Charlie Hoodie or the Babygrow pattern.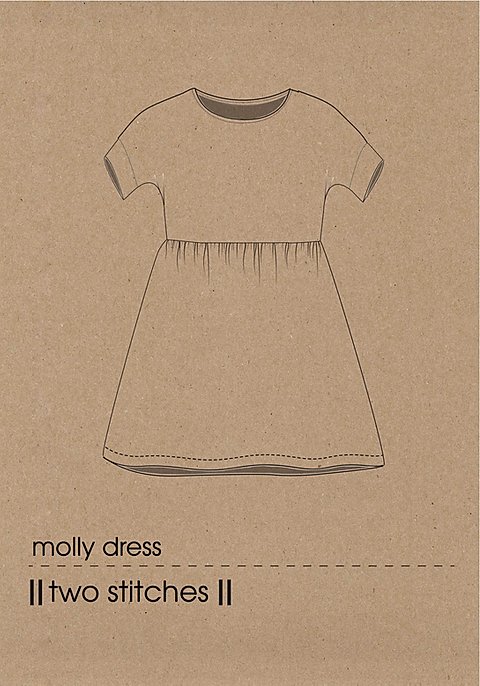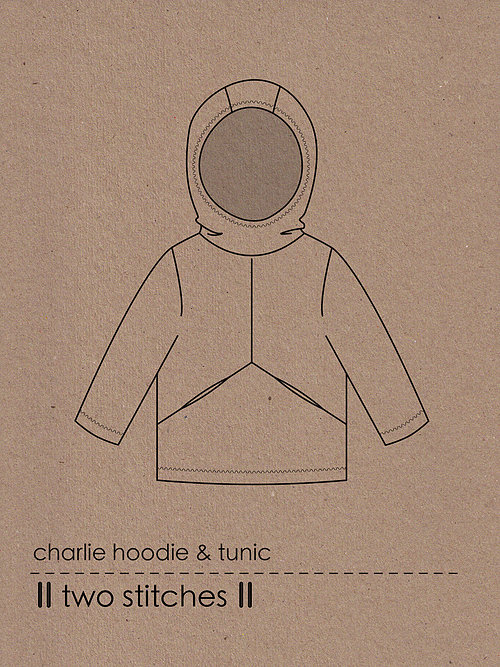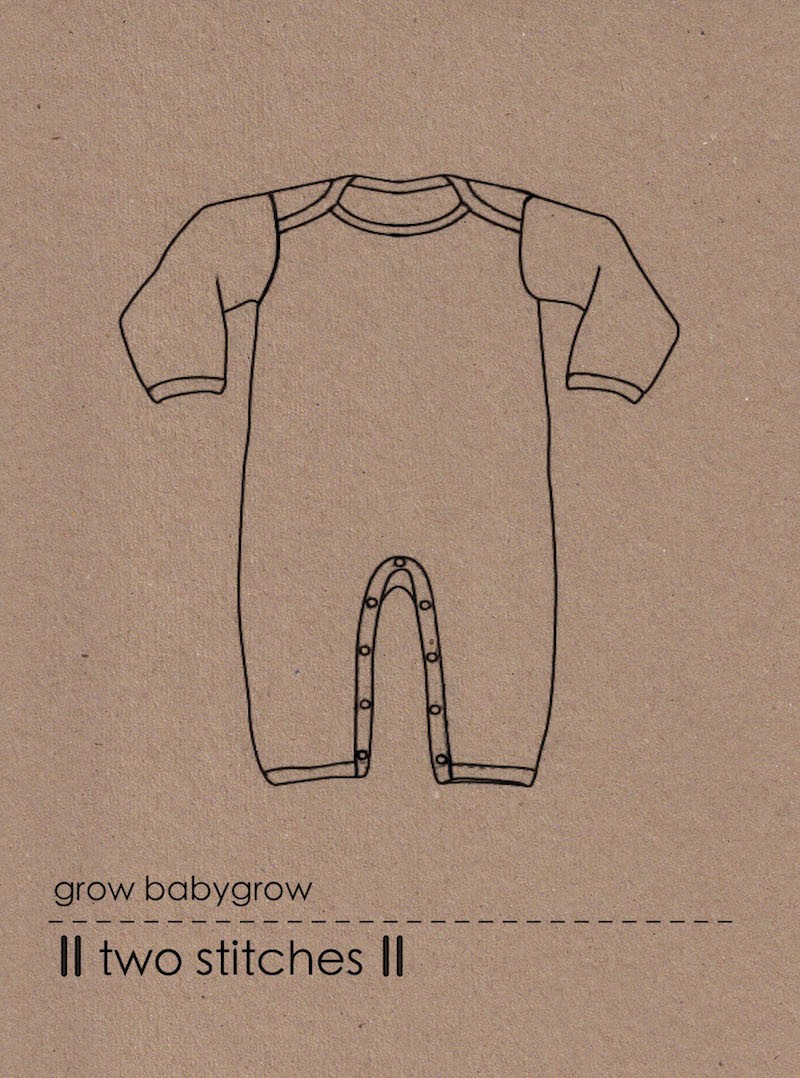 Choosing the right fabric for your pattern
I'll try and keep this simple, but it is important to get fabric with the right amount of stretch for the pattern you have chosen. It is important to understand that the % of stretch refers to how much the fabric physically stretches not the % of spandex or Lycra that is in the fabric
For example tight fitting leggings will need a much stretchier fabric than a loose fitting t-shirt so just taking a good look at your pattern is a good place to start. If you use a fabric without enough stretch you will probably end up with something that is too tight or doesn't fit at all.
The commercial sewing patterns (McCalls, Simplicity, Vogue New Look etc) usually have a 'pick a knit test' on the back of the packet to help with this. You simply take a set amount of your fabric (across the width) and see if it will stretch to the line marked on the pattern
Independent (indie) sewing patterns often give a percentage of stretch. For example 'requires fabric with 50% stretch' this means you need to be able to stretch a 10cm section of fabric to 15cm.
The majority of jersey fabrics have a 4-way stretch, which means they stretch crosswise and lengthwise, but some of the heavier type jersey sometimes only have 2-way stretch (between the selvages) so read the fabric recommendations for your pattern carefully.
Preparing your fabric
As with any fabric you are using for dressmaking I recommend washing before cutting out and sewing to allow for any shrinkage.
Cutting out
You need to take care that you don't allow the fabric to stretch whilst you are cutting out. Make sure you lay it flat on your table and don't let any excess length of fabric hang over the end of the table as the weight of the fabric may cause it to stretch out of shape. Place your pattern pieces on the fabric and pin in place and cut out with nice sharp scissors or use pattern weights and a rotary cutter.
Sometimes the edges (selvage) of some jersey fabrics have a tendency to curl. If this happens pinning the edges together can help when cutting out.
Needles
You may find your chosen fabric sews with your normal needle but if you get skipped stitches try the following
Stretch needles - good for man-made fabrics like Lycra and polyester jersey
Ball point needles – these have a rounded tip which pushes through the fabric rather than trying to cut through and are good with natural fibres
Twin needles – these are useful for finishing hems on your jersey.
The needles come in various sizes a 75/11 and 80/12 for light to medium weight knits and 90/14 for heavier knits.
Sewing
You really don't need an overlocker/serger to be able to sew jersey fabrics and get a good result. Overlockers are good and I love having one but I managed for years without one. All you need is that your sewing machine can do a zigzag stitch.
You may find your machine has a stretch stitch setting or two. Try them out on a scrap of your chosen fabric and see which works best for your project. If you don't have stretch stitch settings then try a narrow zig zag stitch, try out different widths and length combinations on a test piece of fabric until you are happy with the result.
Neaten seams with a zig-zag or use an overlock stitch if your machine has one. Trimming seams down and neatening together works well.
Don't stretch your fabric as you sew, just guide it through the machine.
Normal polyester thread is fine for jersey fabrics.
Just for interest the bonus of an overlocker is you can sew and finish seams in one go, they control the fabric going through the machine so the fabric isn't stretched, and they give a very professional finish.
That's about all you need to know to start so I hope you find all this information useful and now feel able to try out sewing with jersey. Choose a simple pattern for a T-shirt or dress and I'd recommend starting with a natural fibre jersey like cotton to start with.
Fabric Types
There are so many types of jersey and knit fabrics out there that I have listed as many as I could think of below to help you distinguish between them. Also here are a couple of terms you may see in fabric descriptions
GOTS
Global Organic Textile Standard. This is a textile production certification that limits the use of toxic bleaches, dyes and other chemical inputs in the production and it must contain 95% organic fibre
OEKOTex® standard 100.
This found on organic and non-organic textiles and shows the fabric has been rub tested, dye tested to this standard and is a superb quality jersey.
If a product holds a GOTS or OEKO-TEX certification you can be confident that the product has gone through testing and is as safe as it can be for humans.
Cotton Jersey
This fabric is normally about 95% cotton and 5% elastane. It has a matt finish and is easy to care for so is great for sports clothing T – shirts and kid's clothes. Sew Scrumptious stock lots of this type of jersey which you can find here
Interlock Jersey
This is sturdier than single jersey as it is made of two kinds of fabric woven together. It can be made of all cotton or cotton and a synthetic fibre. It has a smooth finish and can look the same both front and back. It is often used for bedding and fitted sheets but is also good for leisure or sports clothes and kid's clothes.
Jacquard Jersey
Jacquard refers to a raised design or pattern that is knitted into the jersey rather than printed onto it. The patterns can be complex in multiple colours which are sometimes reversible. It can be single or double knit and can be of natural or synthetic fibres. It is durable, hard wearing and versatile.It's good for jackets, dresses, skirts and trousers as it is often slightly heavier weight.
Viscose jersey
Viscose is made from wood pulp, making it a cellulosic fibre, like cotton or linen. It is often regarded as only partially man made. Viscose jersey has a soft drape made up of about 95% viscose and 5% elastane. It has a cool feeling with a smooth slightly shiny finish and is often used for tops and dresses requiring a soft drapey finish.
Linen Knit
Linen knit is breathable and lightweight with a softer drape than typical linen material. Adding elastane to the linen gives it the stretch that is not found in standard linen fabrics. It great for tops, t-shirts, and dresses.
Bamboo Jersey
Bamboo jersey is eco-friendly and responsibly sourced. Bamboo has a hollow fibre making it more absorbent than cotton and wicks moisture away from the skin faster keeping you dry. The bamboo fibres are mixed with Lycra or spandex to give it the stretchy properties. It has a similar feel to cotton jersey and is good for sportswear, T-shirts and kid's clothes
Knit Fabrics
This term means fabrics either knitted or warp-knitted by machine which covers the fabrics already described. However, generally on fabric sites the term knit fabrics often refers to fabrics that appear more like those used for traditional looking jumpers and cardigans like rib knit, cable knit, plain knit etc It offers the chance to make your own 'knitted' items but much faster than knitting by hand.
French Terry
This fabric has a smooth face with a looped back giving it a slightly fleece like feel. It is slightly heavier than normal T-shirt jersey and easy to sew making it good for beginners to jersey. It has moisture wicking absorbent qualities so It works well for lighter weight sweatpants and hoodies and is great for kids clothes, babygros and bibs.
Sweatshirt
The outside looks like most jersey fabrics but has a fuzzy inside and is thicker. It is usually made from cotton or polyester or a mix often with some spandex to give a better stretch and recovery. Those with a higher proportion of cotton are more breathable and softer against the skin. The loops ( the fuzzy underside) was originally designed to absorb sweat hence the name. It's good for hoodies, joggers and kids clothes.
Polyester jersey
This is a synthetic fabric so doesn't have a natural feel to it. It is more wrinkle and stain resistant, fades less, is long lasting and durable. It is less absorbent than cotton and other natural fabrics and some polyester fabrics can feel clammy against the skin in hot weather. It is lightweight with a slightly silky feel.
Ponte di Roma/Ponte Roma
This is a stable double-knit fabric and is not as stretchy as other jerseys. It can be made from various mixes of yarns. Classic Ponte Roma has identical sides, so you can sew with either. Double face Ponte Roma has different patterns/colours on the two sides. This can allow you to get creative with contrasting accents to your garment. It's great for dresses, skirts, tops, cardigans and jackets and doesn't crease at all.
Scuba
Scuba is a double knit polyester and spandex and has good stretch and recovery. It is made from a fine gauge thread normally with a smooth texture, however, you can also get scuba crepe which is similar to traditional lycra but with a textured finish. It can be used for sportswear,leggings, jackets and bodycon form fitting dresses.
Happy Jersey sewing! Please do let us know if you decide to give it a go. We would love to see what you make...