Posted by Louise on 18th Nov 2020
Christmas is just around the corner so we have searched the internet for our favourite sewing and crafting related gifts to buy for loved ones or just treat yourself! We love supporting fellow small businesses and all the people on the list are UK based with a few little goodies from our own little business thrown in. You can click on the company name to see products in more detail. We hope you love them!
1) 'Threadhead' Needle Keeper - A Curious Twist - £6
Super cute magnetic needle keeper. Would make a perfect little stocking filler.
A Curious Twist also sell fab adult cross stitch kits. Not for the faint hearted but would make a fab gift for a sweary friend! You can find them here
2) Fabricologist Print - Little Giraffe Prints - From £10

Love this print. I need it in my fabric room!
3) Stash Bag - Black Typographic - £14.12

This cotton bag really made me smile. My stash is huge!
4) Silver Ring - Martin Smart Silver - £15

This silver sewing needle ring is so pretty. Make a great present or just buy for yourself!
5) Japanese Metallic Fabric Face Mask Kits - Sew Scrumptious - £12.95
Have the coolest masks in town! Make your own gorgeous metallic fabric face masks.
Face Mask Kits include patterns and instructions for making fitted face masks (3 sizes & 2 versions), 2 FQ's of 100% cotton fabric including one Japanese metallic fabric and elastic and nose wires to make 3 masks.
Step by step photo tutorial on the blog plus a little video to help! We also stock Liberty fabric Face Mask Kits.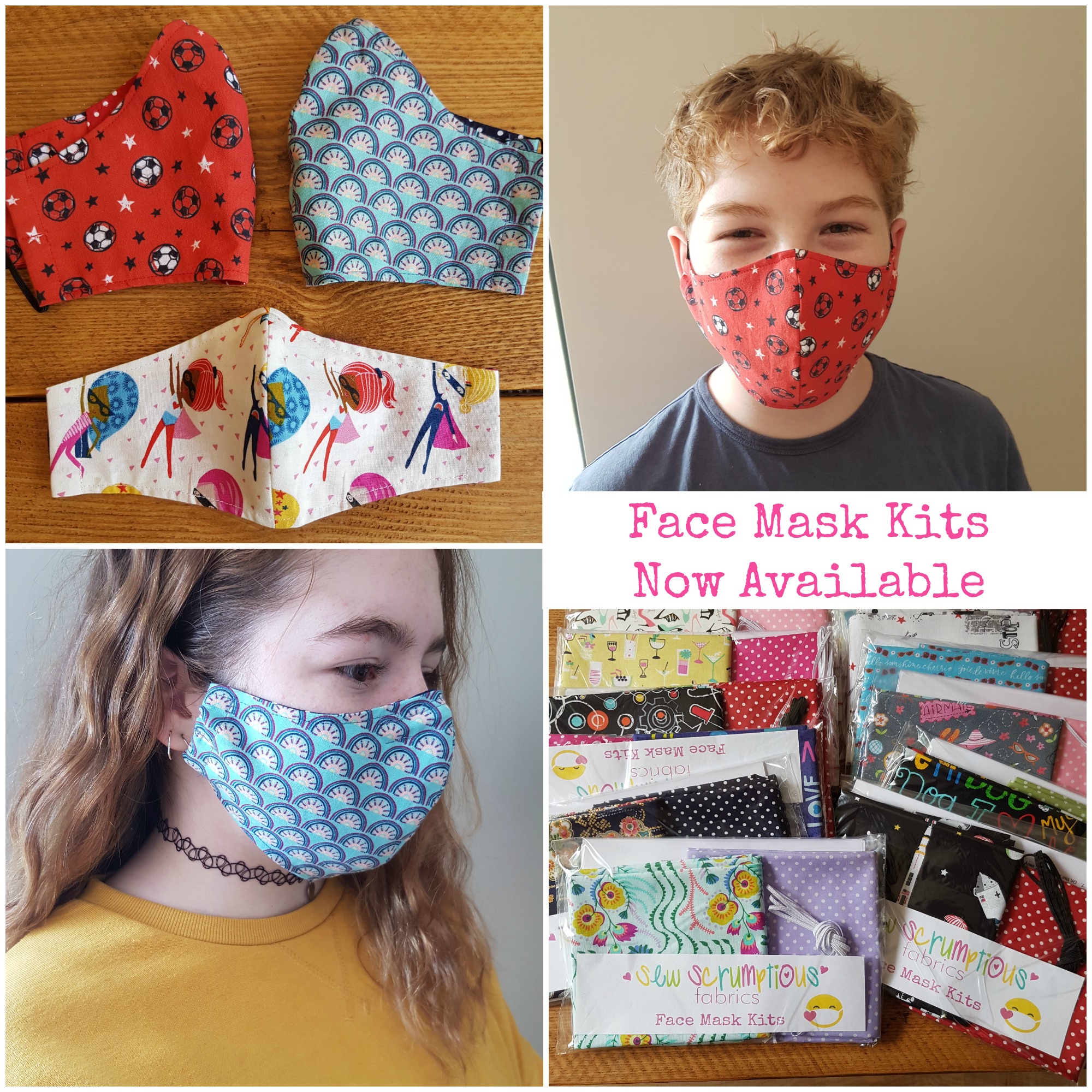 6) Chocolate Sewing Kit - ChoconChoc £15
Can you believe these are chocolate? You can never have enough chocolate although these are far too cute to eat!
7) Lampshade Kits - Sew Scrumptious - From £12.50
Make your own fabric lampshade. Super easy. You just need a kit and half a metre of fabric or wall paper.
Comes in 2 sizes. Perfect for both lamps (20cm Kit) and hanging lampshades (30cm Kit).
8) Sewing Stationary Bundle - Patterntrace - £28

Makers workbook, pattern storage envelopes and garment planners. Perfect for organising your makes in the New Year! Patterntrace sell lots of sewing and quilting related goodies which are all perfect for presents.
9) Pattern Weights - The SEWciopathUK - £9.50

Fab resin tape measure pattern weights. Perfect for dressmakers. Lots of different designs.
10) Personalised Sew In Labels - The Creative Artisan Company - From £13

Super cute rainbow labels which can be personalised. Perfect for all your handmade makes.
11) Procraftinator Needle Minder - Hartiful - £7.50

Another gorgeous needle keeper. This one is for all the people who knit or crochet. So cute.
12) Personalised Pin Cushion - Stitch Galore - £18.50

Love these gorgeous Liberty pin cushions. So pretty and can be personalised.
13) Bobbin Buddies - Sew Scrumptious - £4.50

Keep your threads and matching bobbins together with these Bobbin Buddies. Set of 10.
Come in a recycled sewing pattern gift bag.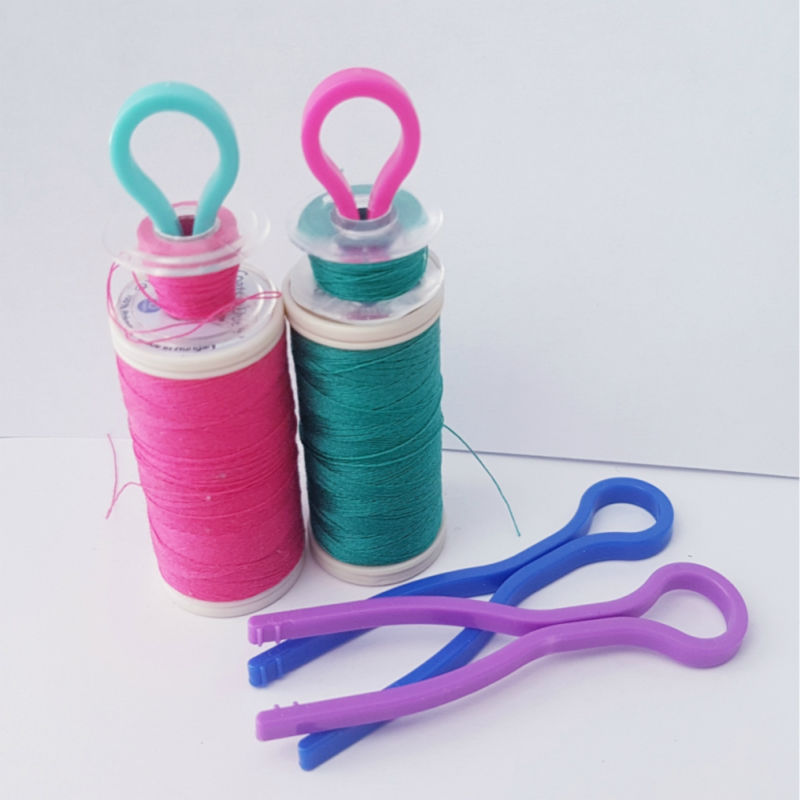 14) Ceramic Bobbin - Cherryhill Studio - £21

Love these decorative ceramic bobbins. So pretty for a craft or sewing room.
15) Sewing Ornament - Blue Butterfly Crafts - £7

These pretty sewing ornaments featuring vintage Singer sewing machines are just gorgeous.
16) Make Your Own Fabric Plant Pot - Denys & Fielding - £19.50

Everything you need to make your own fabric plant pot. Super cute. 4 different designs.
17) Wonder Clips - Sew Scrumptious - £6.50

Wonder clips are a great alternative to pins. Perfect for delicate or very heavy fabrics. Set of 16. Come in a recycled sewing pattern gift bag.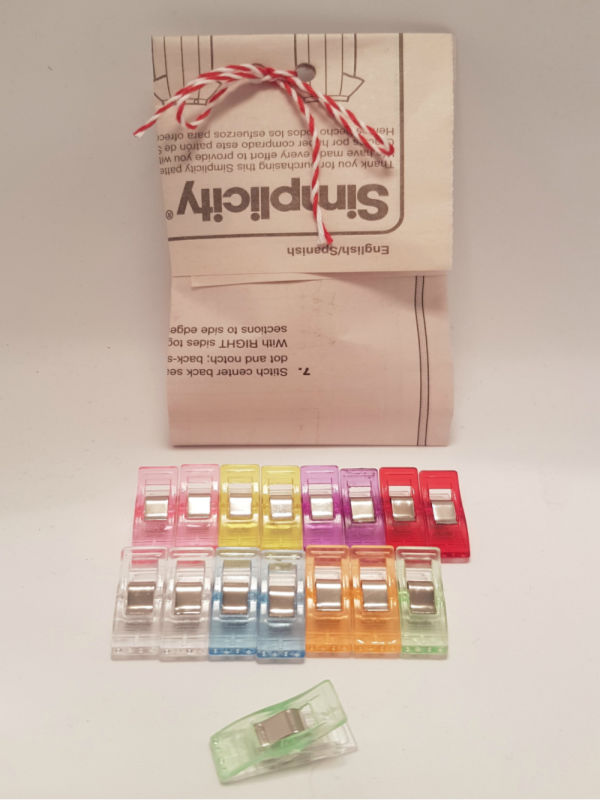 18) Big Ball Needle Bag - Kelly Connor Designs - £18.95

Fab gift idea that me smile. Perfect or anyone who likes big balls. I'm looking at you knitters and crocheters!
19) Fabric Bundles - Sew Scrumptious - From £13
Who doesn't love a fabric bundle. Lots of different fabric options - Art Gallery, Dear Stella, Liberty, Star Wars or Harry Potter. Can't see what you like? Message us and we can make one of your choice.
20) We All Stayed At Home 2020 Kit - Cotton Clara - £21.95
This fab cross stitch kit kind of sums up 2020! Perfect to keep you occupied during those lockdown evenings and a reminder of the interesting year that was 2020!
We hope you find something that you like! Just send the blog link to a loved one to give them a prompt and drop hints!
Happy Christmas Shopping!